---
Blog

---
March 2023: Savoring Seder
Passover is one of our favorite events of the year here at Chelsea Fay. While attending university and away from their families, the team began to hold their own Passover seders with friends, each bringing to the table (both literally and figuratively) their own customs and traditions from back home. Leila introduced us to the fresh and colorful Sephardic dishes she made at home in Bolivia, Zoë convinced her friends that coca-cola and ketchup really did belong in a brisket recipe, and Chelsea acquainted us all with craft cocktails kosher for Passover that didn't include Manischewitz wine (though we'll never really give up the Manischewitz).
Whether you gather with family or friends, in-person or virtually, we'll show you how we like to prepare for this special feast. And just as wine changes its flavor depending on the company it's enjoyed with, a meal is likewise elevated by its surroundings, something we take great joy in arranging in this edition of Setting the Table.
---
---
Passover is a Jewish holiday, celebrated each spring, which commemorates the liberation of the Israelites from Egyptian slavery. We take pride in bringing modern and inclusive practices and food to our table while embracing our traditions, which for this holiday include setting out a seder plate, reading from the Passover Haggadah, eating matzo, drinking four cups of wine, and singing along to Ma Nishtanah.
---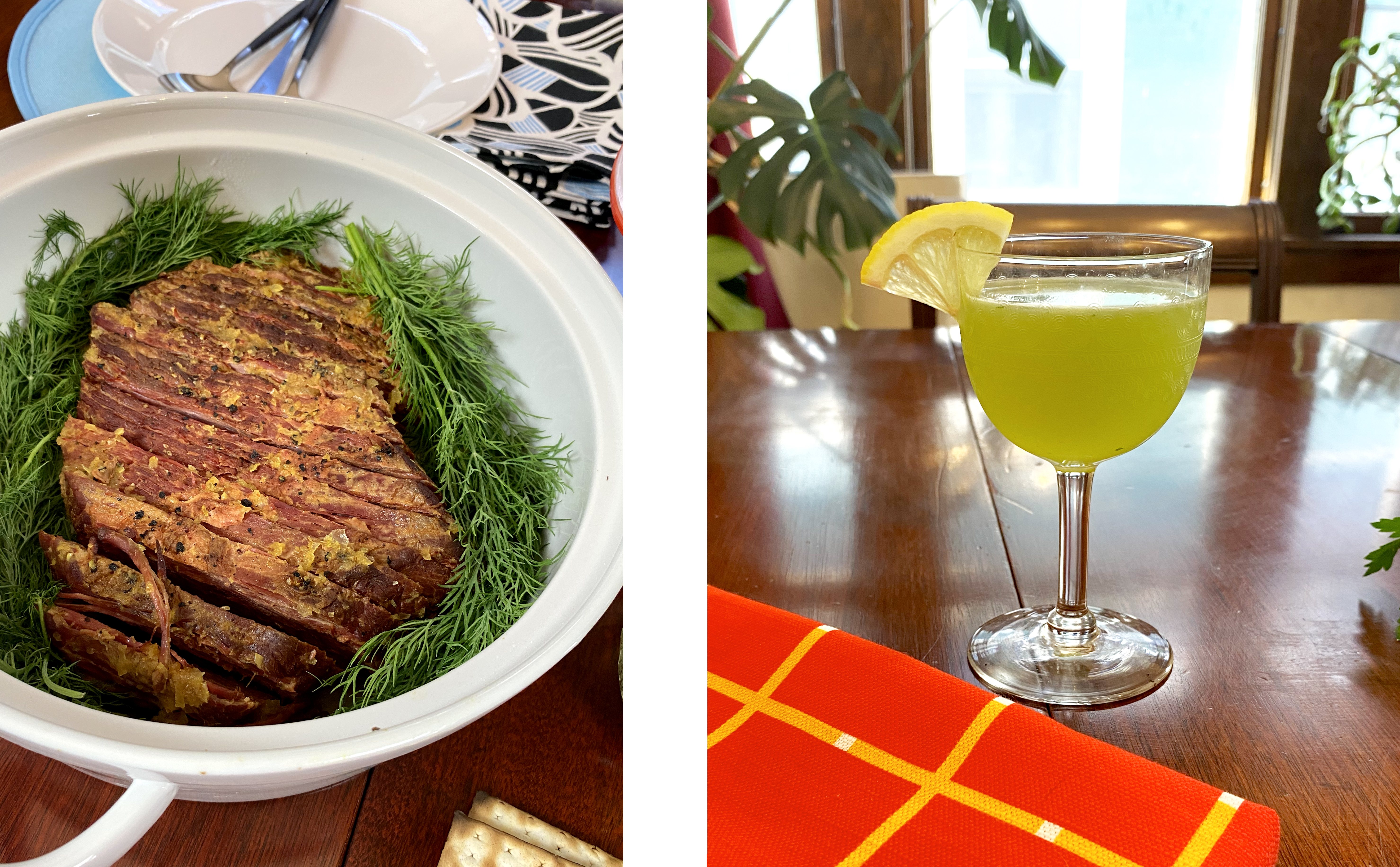 ---
We stacked our menu this year with all of our favorites. Of course we had to start off the meal with matzo ball soup, followed by a slow-cooked brisket with sides of charoset, safron rice, and green bean salad. Chelsea's family, who raised chickens in their backyard, always had a large bowl of hard-boiled eggs adorn their seder table. For dessert we prepared coconut macaroons and flourless chocolate cake.
One new tradition we're enjoying this year is a twist on the classic tradition of eating bitter herbs during the retelling of the Passover story. Instead of dipping our herbs in salt water and eating them, we're drinking them in a tart and herbal cocktail we created for the occasion. The Parsley Sour, made with gin (grape-based for passover), lemon juice, vermouth, and parsley, is a bittersweet and refreshing addition to the Passover seder.
Please note: During Passover Jews avoid eating or even keeping in their house, chametz, which means leavened grain. While we aren't using grain based ingredients in our cocktail the liquor isn't technically certified Kosher for Passover.
---
---
One thing we've learned as our circle of loved ones has grown over the years is that holidays look different for every family and the traditions that we make together will be what gets passed down to future generations to build upon. With that in mind we decided on a Spring theme for our seder table, using simple, fresh colors and patterns to celebrate the thawing of winter and a fresh start to the season.
---
---
It is customary to cover three pieces of matzo on the table with a special cloth. We chose the Modern Plaid Tea Towel in order to create a contrasting focal point, and to add warmth to our cool color palette. During dinner, one piece of matzo called the Afikomen is broken from the stack and hidden for kids (or kids at heart) to find. Whoever finds the Afikomen is rewarded with a prize!
---
---
As our seder concludes we'd like to thank you for joining us during this holiday season and allowing us to share some of our traditions with you.
Chag Sameach!
Gut Yontif!
Pesach Alegre!
---
February 2023: Tacos Are For Lovers & Pals

This year, in honor of our favorite love filled holiday, we celebrated Feb. 14th with a Mexican inspired feast! Gathering inspiration from many sources, we combined traditional family specialties, a tried and true recipe from William Sonoma, AND a custom cocktail by our favorite in-house cocktail connoisseur! Gather your partners, pals, and pets and join us while we celebrate love!
---
Shrimp Tacos with Red Cabbage Slaw, Mango Salsa, and Guacamole
---
Leila & Andy's Corn Tortillas
1 1/2 cups masa harina
2 tbs flax seed oil (or any neutral flavored oil)
About 1 cup water (more, as needed)
1/4 tsp salt
Tortilla Press
Zip Lock Plastic Bag, cut along the sides
Cast Iron Skillet
Instructions:
1. Combine masa harina and salt in a large bowl.
2. Stir in oil.
3. Slowly pour in water while mixing with your hand or wooden spoon until the dough comes together in a ball
3. Divide dough into 12-16 pieces (depending on your desired amount of tortillas), lightly flour, and roll until each piece forms a ball.
4. Place one side of your plastic bag inside tortilla press, add dough ball, and cover with other side of the plastic bag. Close tortilla press, flattening the dough ball. (If you don't have a tortilla press, you can roll them out with your hands to a diameter of 4-6 inches.)
5. Preheat skillet on medium heat and cook tortillas 1 or 2 at a time, until brown spots appear on the bottom (about one minute). Flip and cook each side for an additional 30 seconds.
6. Wrap the cooked tortillas in a towel to keep them warm; serve immediately or cool and store tightly wrapped in the fridge for a few days.
7. Yields 12-16 tortillas
---
Williams Sonoma Spicy Shrimp & Red Cabbage Slaw

Shrimp:
2 pounds uncooked shrimp, peeled & devained
3 tbs canola oil (we used safflower oil)
1 tbs plus 2 tsp chili powder
1 tbs plus 1 tsp cumin
3 garlic gloves minced
1 bay leaf, torn in half
Red Cabbage Slaw:
1/4 cup rice vinegar
2 tbs Canola oil (we used olive oil)
2 tsp sugar
3 cups shredded purple cabbage
1/4 cup chopped fresh cilantro
Salt & pepper, to taste
Instructions:
1. In a bowl, stir chili powder, cumin, garlic, bay leaf, and oil.
2. Add shrimp and stir to coat. Cover and refridgerate for an hour.
3. In a large bowl, stir together vinegar, oil, and sugar until sugar dissolves.
4. Add cabbage and cilantro and toss. Add salt and pepper to taste.
5. Remove shrimp from refridgerator and discard bay leaf.
6. Heat your pot or grill pan on high heat and add oil or cooking spray. Cook shrimp until opaque.
---
Mango Salsa

2 ripe mangos
1 small red onion, diced
1 jalapeno, diced
1/2 bunch fresh cilantro, chopped fine
1/2 lime, juiced
salt to taste
Instructions:
1. Cut mangos into 1/2 inch chunks.
2. Add diced onion, jalapeno, cilantro and lime juice.
3. Stir together.
4. Add salt to taste.
---
Valeria's Oaxacan Guacamole

2 avocados
1 cup tomatoes, chopped
1 small green pepper, or jalapeno if you like it spicy!
1 small white onion, chopped
1/2 bunch fresh cilantro, chopped
1/2 lime, juiced (more to taste)
Molcajete or large mortor & pestle
Instructions:
1. Add onion, pepper, and lime juice to molcajete.
2. Use pestle to crush ingredients to release juices.
3. Add avocado and cilantro and continue to crush and combine with pestle.
4. Stir in tomatoes.
5. Add salt, pepper, and lime to taste.
---
The Beekeeper's Ration

Jeff, our very own cocktail connoisseur, treated us to this special cocktail, concocted especially for our Valentine's feast. A twist on a traditional margarita, this original drink swaps Triple Sec and simple syrup for Benedictine and Orange Curacao. Mezcal adds a note of smokiness, while a rim of chili, citrus, and salt creates a well balanced and refreshing experience.
Cocktail:
1 1/4 oz Mezcal
3/4 oz Benedictine
3/4 oz Orange Curacao
3/4 oz lime juice, strained
1/4 oz water
Ice
Rim:
Zest of one orange
Zest of one lime
1/4 tsp Cobanero Chili
1/4 tsp Aleppo Chili
1/8 tsp Aji Amarillo Chili
2 1/2 tsp salt
Note: If you cannot access these specific chilis, you can swap out for other chili powders for a variety of different flavors!
Instructions:
1. Place your coupe glass in the freezer to chill.
2. Combine zest, and chili powders, and salt in a small bowl or plate. Break up clumps. Should be dry to the touch. If wet, add small amounts of salt until dry. Set aside.
3. Remove glass from freezer and use a small lime wedge to wet the rim of the glass.
4. At a 45 degree angle, tilt the rim of the glass into the plate of salt, and rotate glass until the entire rim is coated with the salt mixture.
5. Add all cocktail ingredients to shaker. Add Ice and shake vigorously.
6. Double strain into coupe and enjoy!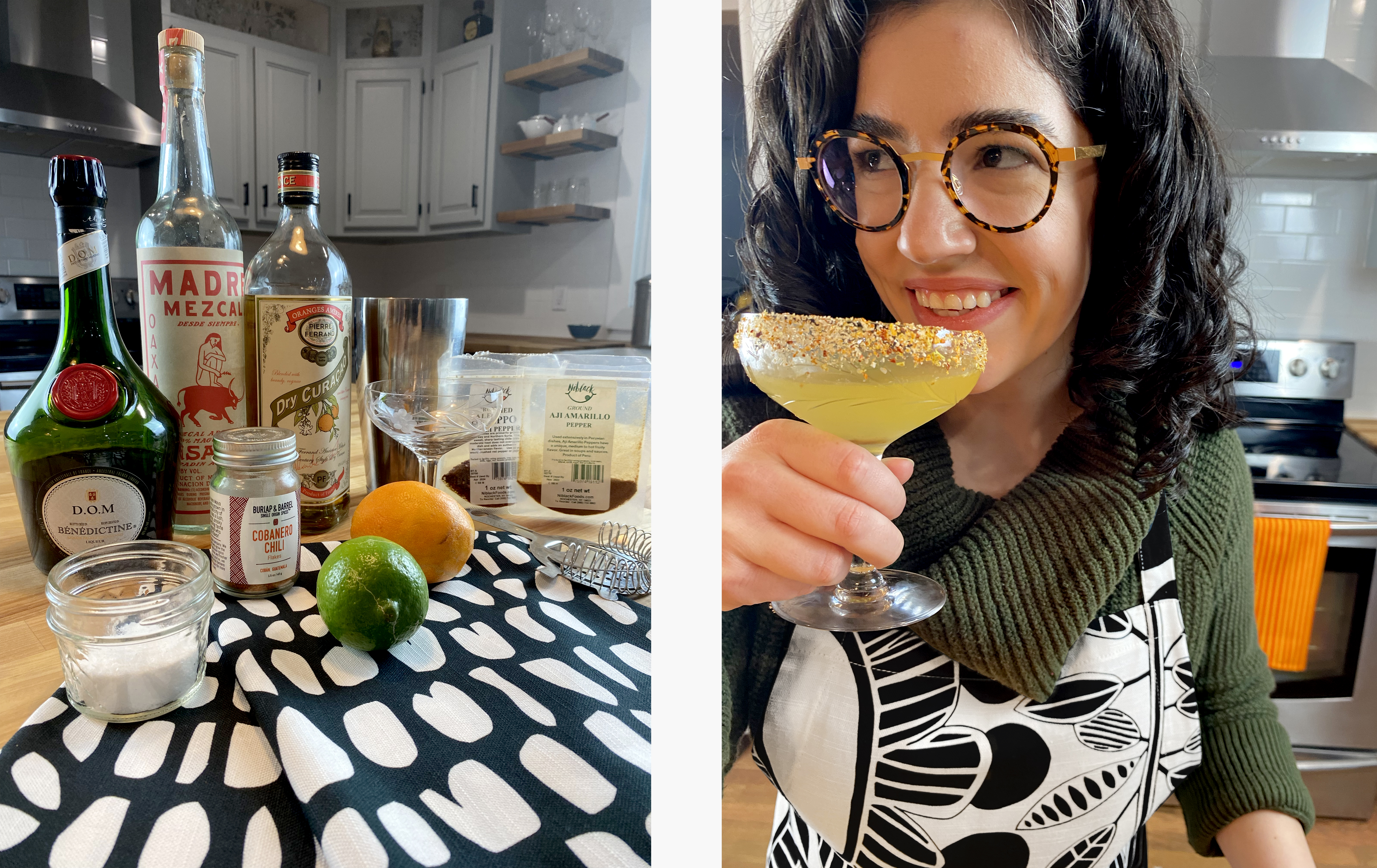 ---
Setting the Table
Nothing sets the mood quite like a well constructed tablescape! In honor of our colorful fiesta, we chose two of our newest monochrome products: the
Loon Striped Table Runner
and the
Loon Speckle napkins
. These pieces add movement and interest, without clashing with the colorful dishes on the table. Building around these patterns, we selected
2 different colored placemats
to offest the variety of patterns and textures on the table, and add an element of fun and festivity. Modern, elevated, and fun, our final tablescape was the perfect backdrop for a home cooked meal with friends.
---
---
---