---
Blog

---
March 2023: Savoring Seder

Passover is one of our favorite events of the year here at Chelsea Fay. While attending university and away from their families, the team began to hold their own Passover seders with friends, each bringing to the table (both literally and figuratively) their own customs and traditions from back home. Leila introduced us to the fresh and colorful Sephardic dishes she made at home in Bolivia, Zoë convinced her friends that coca-cola and ketchup really did belong in a brisket recipe, and Chelsea acquainted us all with craft cocktails kosher for Passover that didn't include Manischewitz wine (though we'll never really give up the Manischewitz).
Whether you gather with family or friends, in-person or virtually, we'll show you how we like to prepare for this special feast. And just as wine changes its flavor depending on the company it's enjoyed with, a meal is likewise elevated by its surroundings, something we take great joy in arranging in this edition of Setting the Table.
---
---
Passover is a Jewish holiday, celebrated each spring, which commemorates the liberation of the Israelites from Egyptian slavery. We take pride in bringing modern and inclusive practices and food to our table while embracing our traditions, which for this holiday include setting out a seder plate, reading from the Passover Haggadah, eating matzo, drinking four cups of wine, and singing along to Ma Nishtanah.
---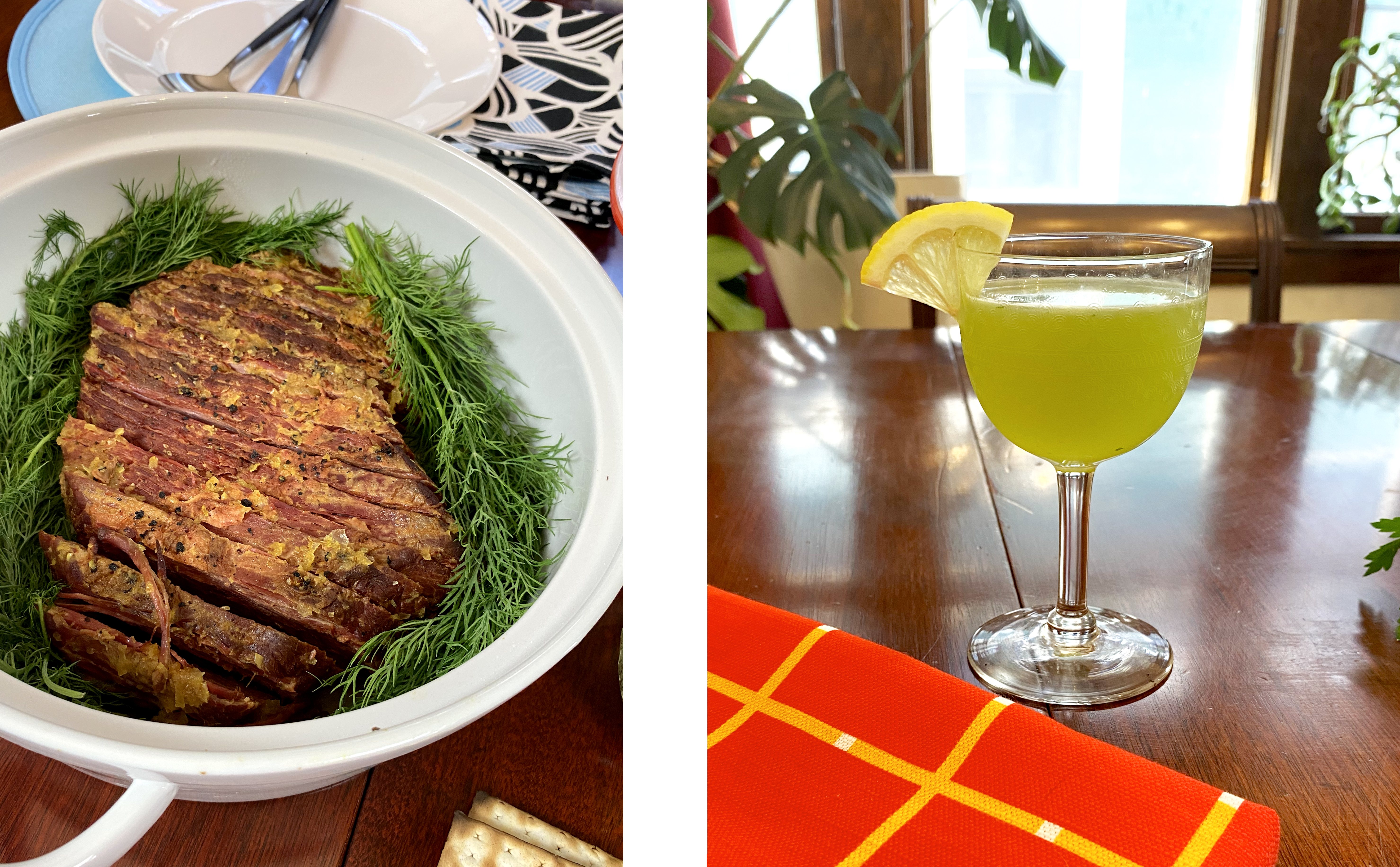 ---
We stacked our menu this year with all of our favorites. Of course we had to start off the meal with matzo ball soup, followed by a slow-cooked brisket with sides of charoset, safron rice, and green bean salad. Chelsea's family, who raised chickens in their backyard, always had a large bowl of hard-boiled eggs adorn their seder table. For dessert we prepared coconut macaroons and flourless chocolate cake.
One new tradition we're enjoying this year is a twist on the classic tradition of eating bitter herbs during the retelling of the Passover story. Instead of dipping our herbs in salt water and eating them, we're drinking them in a tart and herbal cocktail we created for the occasion. The Parsley Sour, made with gin (grape-based for passover), lemon juice, vermouth, and parsley, is a bittersweet and refreshing addition to the Passover seder.
Please note: During Passover Jews avoid eating or even keeping in their house, chametz, which means leavened grain. While we aren't using grain based ingredients in our cocktail the liquor isn't technically certified Kosher for Passover.
---
---
One thing we've learned as our circle of loved ones has grown over the years is that holidays look different for every family and the traditions that we make together will be what gets passed down to future generations to build upon. With that in mind we decided on a Spring theme for our seder table, using simple, fresh colors and patterns to celebrate the thawing of winter and a fresh start to the season.
---
---
It is customary to cover three pieces of matzo on the table with a special cloth. We chose the Modern Plaid Tea Towel in order to create a contrasting focal point, and to add warmth to our cool color palette. During dinner, one piece of matzo called the Afikomen is broken from the stack and hidden for kids (or kids at heart) to find. Whoever finds the Afikomen is rewarded with a prize!
---
---
As our seder concludes we'd like to thank you for joining us during this holiday season and allowing us to share some of our traditions with you.
Chag Sameach!
Gut Yontif!
Pesach Alegre!